A double wide mobile home consists of two large structural sections that are combine and bolted together to make one living unit.
Just like site built homes, which are constructed upon a foundation on the ground, double wide mobile homes will vary in floor plans from home to home.
Due to their unique construction, one section of the double wide may be built with the kitchen and some of the bedrooms and bathrooms, and the other section with the living area and additional bedrooms or bathrooms.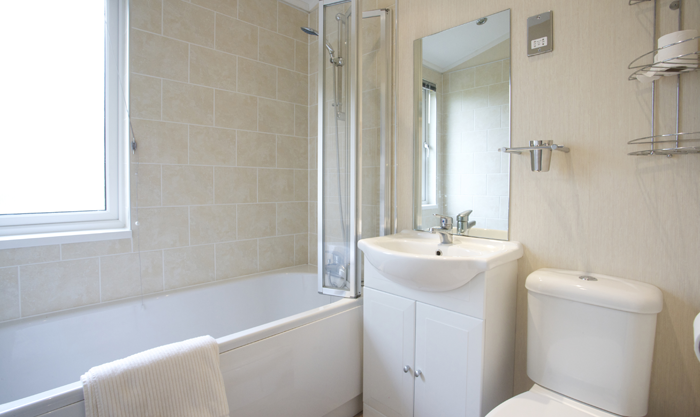 If a homeowner specially orders the mobile home, he may be able to choose from a few different floor plans.
Double Wide Floor Plan Options
The floor plan of any home depends largely on its size, and double wide mobile homes are certainly no exception. While each manufacturer will have its own specifications, there are a few standard sizes in which these types of homes are usually found.
Double wide home sizes are usually between 8 and 16 feet wide, and between 42 and 60 feet long. Most double wide floor plans create a proper rectangle, though in some cases one section of the structure may be slightly longer than the other.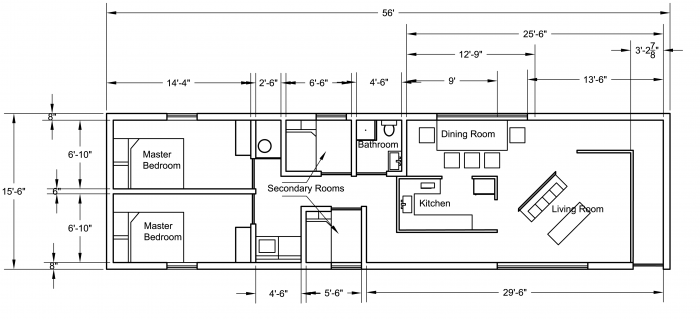 Rooms typically found in a double wide home include multiple bedrooms, often three, and two bathrooms. They also feature a living room and kitchen with a separate eating area. In some cases, the floor plan will also allow for storage areas like a utility or walk-in closet and a kitchen pantry.
A mobile home can also have a front porch with awning or other outdoor seating, as well as enclosed parking that is attached to one side of the home.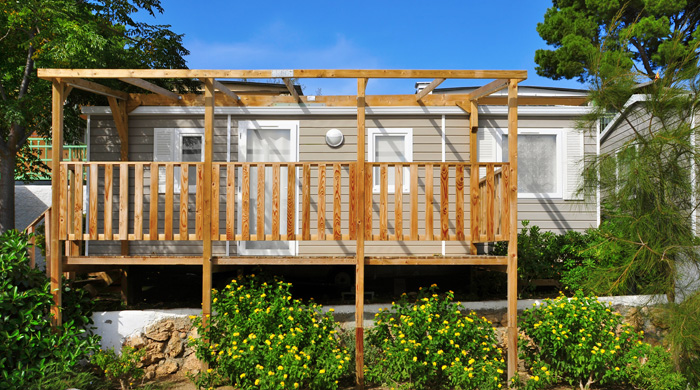 Sometimes a mobile home will have a push out or slide out feature. This area is a small nook of the home that will push outwards from one side of the home and create a little extra floor space, which might be used for an office or a seating area.
When not in use, especially when the home is being moved from one place to another, the push out is collapsed to sit closer to the side of the house.
Many manufactured and mobile homes now include the modern amenities that a homeowner would expect to find in a regular house. For instance, when space permits a high ceiling with skylight might be found, as well as laminate hardwood flooring and even a fireplace.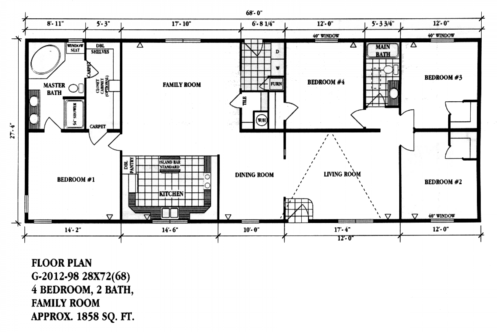 Since a mobile home may be purchased from a factory, it's sometimes possible to specify exactly which amenities are used on one's home, and formerly occupied homes can be modified.
If a family outgrows a mobile home, additional sections may be added on to create a larger floor plan. While not as common, triple or even quadruple wide homes have three or four sections that are bolted together. The addition of these additional sections will of course change the floor plan of the home, adding addition bedrooms and living areas. When a home has more than two sections, the additional pieces are often smaller.