There are many reasons why people decide to buy trailers and convert them into beautiful double wide homes.
There are actually many benefits to owning a trailer home over a more traditional on-site built house.
If you happen to be on the fence, or even if you are in the market, to buy a double-wide home, you are in the right place and should read on.
In this article we will explain the top reasons you should consider buying a Double Wide trailer home for you and your family.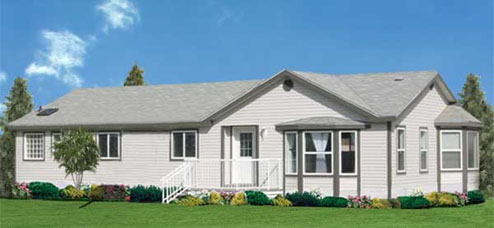 1. Affordability
The number one reason people look to manufactured when they are looking to purchase a home is the affordability factor.
These homes are much more affordable than a traditional brick and mortar house.
Things such as huge down payments, very expensive home maintenance costs, costly monthly mortgage payments, rising property taxes, and even credit issues can leave many potential home buyers unsure of whether or not they should even try to purchase a home.
These are things you don't need to worry about when you purchase a trailer style type home. Remember trailer style homes can cost an average of $90,000, compared with $300,000 for a typical brick and mortar home.
2. Plenty Of Space
A double-wide is made to be large enough to easily have enough space for a family, but they still remain inexpensive enough to options for lower-income home buyers.
These home can be manufactured in hundreds of different configuration and floor plans.
3. Faster To Build
Speed of getting in to your new home is also much faster than trying to buy, build, and move in to a traditional style home.
Factories can build a typical double-wide manufactured home in about one third of the typical time it takes for a crew to build an on site-built home.
Some homes may even already be 100% complete and ready for you to move on to your land. But even if you buy brand new, when the house makes it to your property, it is already usually ninety percent complete, which lets you actually move into your new residence more quickly.
4. Quality Inclusions
The way double-wide homes are being built today are usually chock full of great amenities. If you like the sound of hardwood floors, wall-to-wall carpets, energy star efficient appliances, ceramic tile and ten-foot ceilings, well, those amenities are not just found in typical homes anymore.
Some trailers even come outfitted with things like walk-in closets, garden tubs with jets, fireplaces and more. You get all of these things at a much better overall price than you would buying a home in a neighborhood.
5. Choose Where You Live
Another plus about buying a trailer home is that you can pick where you want to live.
Do you prefer a community? – There are community style parks all over the country where you can pay for a lot.
Do you own some land? – You can move your trailer on to your site and enjoy investing your money into more land than neighborhoods afford.
Do you prefer to travel? – If so, you can move your home with you! All you have to do it split the home in half and travel it to your new home destination.
6. More Value For Money Investment
Mobile homes offer more space for your money, and can be a great investment for those looking for extra room.
Additionally, double wide homes often have more features and amenities than traditional homes, making them a great choice for those who want the most out of their home.
7. Great Vacation Home or Rental Property
A double wide home make awesome vacation homes. Or you can buy them as a rental property for some extra rental income.