A Modular home is often confused with a Double Wide Home and for good reason. There are many similarities between them.
However the question we get asked the most is : what's the 'difference' between them.
The short answer is there are two main differences between a Modular and a Double Wide Home:
Their permanence (the ability to move the home again)
Their financial cost and resale value
In today's article we are going to discuss these two main points (and more) in much greater detail. Read on and enjoy!
See a related article we did about the differences (and similarities) between
Container Homes vs a Double Wide Homes.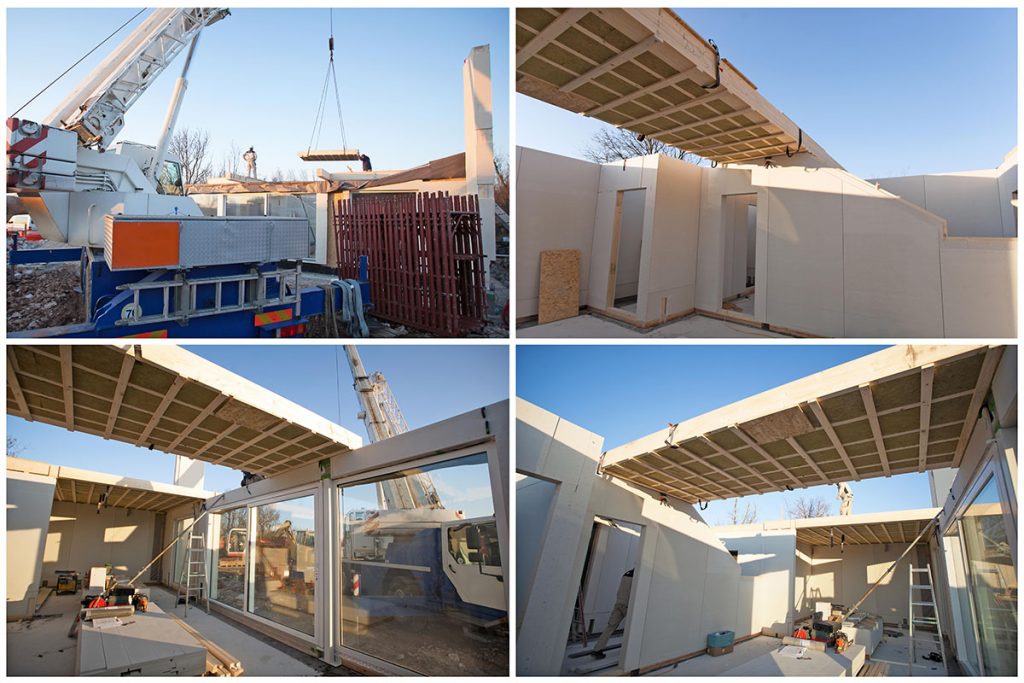 The Permanence of the Structure
The main similarity between a Modular and a Double Wide is where they are manufactured, while the main difference is in the permanency for the final structure.
Modular Construction
Made in a Factory
Delivered in pieces on-site
Assembled on a permanent base
Modular Homes are constructed in a climate controlled home building facility. Depending on the size of the home, they can be built in various sections, from two to five sections.
They are then transported to the home site where all parts are then joined together, by a builder, on top of on a perfect, solid and permanent foundation, either slab or raised.
In hot and dry climates, slabs seem more popular.
Double Wide Construction
Made in a factory
Delivered in pieces on-site
Assembled on a temporary base
Double Wide Homes are manufactured homes also constructed in a factory in two separate sized parts.
They are built on a steel chassis with wheels, transported to your propriety and then assembled together, as one home, on your building site. At times, the wheels are removed on arrival .
Do you want to travel? You can take the home with you; split the home in two and travel to your destination. Once arrived, just put it back together.
They are easily transportable!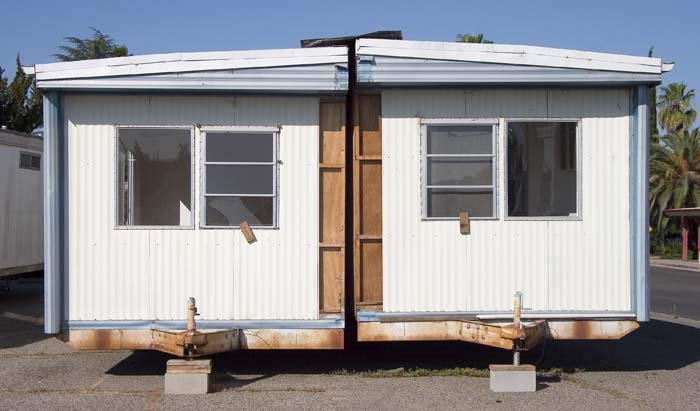 Permanent Vs Temporary
So, Remember that I wrote that a Modular Home is placed together on a "permanent " foundation?
Well, once placed on a permanent base, it cannot be moved anywhere, while the Double Wide Home can be transported to any place you choose to live, such as your own land, parks, communities etc.
Financial Cost and Value
Another difference between the modular and a double wide home is with the re-sale value, once the home is completed and sitting on the block.
Modular Home Value
Modular Homes are regarded as "real property", holding their value like built-on site homes, so offering you more square footage per dollar. This will add value to the property, providing you with financial gain when sold.
However, consider the fact that some people, apparently, see Modular Homes as inferior to traditional site-built homes. This could cause difficulty if selling in the future.
The "real property" definition occurs as, usually, they are placed permanently on land that is owned by the person that owns the Modular Home.
They can be used as a family home, granny flat or as a retirement nest.
Modular Homes can be more expensive then Double Wide Homes, as being fully customizable (interior and exterior finishes), you can choose anything you desire.
They can have a high standard of craftsmanship. But remember, the fancier the design and the features you select, the more expensive a Modular Home can be.
Also, remember that transportation costs, the financial expense of clearing of the land and of the permanent foundation, the crane hire and the cost of the utilities need to be included to the total cost.
In addition, ensure if plumbing and the electrical system are included in the initial quote. A septic tank is not to be forgotten!
Modular Homes are insulated and paneled. They are energy efficient, reducing your heating and cooling costs, so less expensive and more environmentally friendly.
Double Wide Value
Double Wide Homes are easier to afford than the Modular Homes, as they have a simpler design and, usually, a rectangular shape. They are very suitable for starters in the home buying process. They are not considered as "real property", as, often, they are placed on land not owned by the owner of the Double Wide Home.
Double Wide Homes are designed to ensure all available space is not wasted. Items suitable to be altered, such as size, number of bedrooms and bathrooms, cabinets and flooring etc, can be chosen by you.
They incur some expenses as for the construction of a Modular Home, such as delivery to site.
However, contrary to Modular Homes, the value of Double Wide Homes depreciates, as they are considered personal items. Finance loans, if needed, are provided the same as for a car loan. So, your investment loses financial value, exactly like your favorite car.
I hope I have provided you with sufficient information about the two main differences between the Modular Home and the Double Wide Home.
Modular Verses Double Wide
Buying a home can be a life milestone and a big financial investment.
So, before you make the right decision for your way of life, it is important for you to be aware not only of some of those differences, but also of some similarities.
Other Differences
So, I will try to present you, firstly, some of those differences:
While both are manufactured in factories, their structures are built different
The designs for the Modular Home have no limit, while they are more restrictions for the Double Wide Home
Each belongs to a different building category
Modular Homes can be built as two-level homes
It has been found that loans are harder to obtain for a Double Wide Home (as it is not placed on a permanent foundation), than for a Modular Home
However, it has been found that many builders of Modular Homes require full payment prior to the completion of the home
Trust in a reliable builder is important, as a mistake in the production of a Modular Home can have a bigger financial loss than for a Double Wide Home
Double Wide Homes are cheaper than Modular Homes
Modular Homes hold up to rough weather, as they are steel – framed built. Double Wide Homes are more prone to damage in strong wind, storms etc, so it is important to check the type of climate and load that they were designed for
While Modular Homes require fasteners to hold the roof to the main structure, Double Wide Homes require roof fasteners and anchoring devises (tie downs)
Modular Homes have to adhere to the local building codes where they are placed, as they are permanent establishments, while the Double Wide Homes need to be placed according to the Ordinances associated with the land
House Insurance for Modular Homes is the same as site- built homes
Double Wide Home are more common than Modular Homes, but they are smaller in size and not as customizable as the Modular Homes
Other Similarities
Now, you will be wondering about similarities between the two types of home. Well, read on:
Both are built indoor, so there is no exposure to bed weather Consequently, there is no delay in their construction, saving you time
Both are subject to transport damage. So, ensure a reputable transport company will efficiently take careful handling of your dream home while in transit
Both can be constructed in a wide range of sizes
Both are built using quality materials, adding to their strength and durability
Both have an endless innovation in materials and floor plans
Both construction costs are cheaper options that site-built homes
In the last few decades, both have seen a continuous manufacturing improvement by the building industry
Both require maintenance activities, just like site-built homes
As you have been reading through the article, a Modular Home and a Double Wide Home have some important differences and some similarities, some pros and some cons.
If you are in the process to decide which type of home to buy, ask many questions to the companies that build and sell Modular and Double Wide Homes. It is important to make a well informed decision!
However, all will depend on features you are looking for, on your taste and exact desires, and, naturally, on your way of life.
The main issue will be your financial resources and the amount you want to invest.
Good Luck!!!
---