Are you in the process of buying a home? I Know! Things can get a little confusing out there with so much choice available.
There are many places where you can choose to reside, or choose to invest your finances. Traditional Homes, Modular Homes, Double Wide Homes, Container Homes and the list goes on.
But, while there is a lot information available, people still ask us "What are the differences among them?"
Today we present you with differences and naturally the similarities between Container Homes and Double Wide Homes.
See a related article we did about the differences (and similarities) between
Modular Homes vs a Double Wide Homes.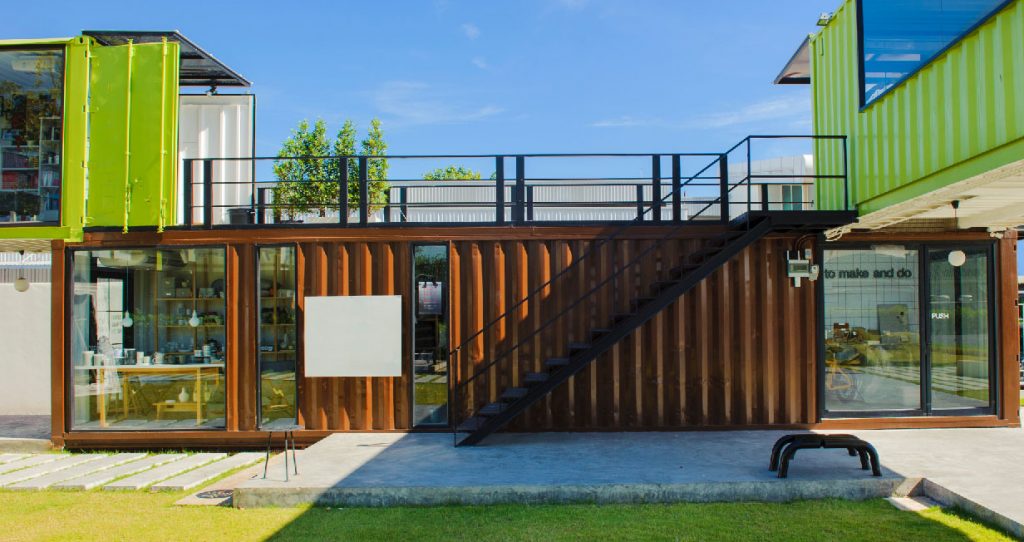 What is a Container Home?
Container houses are built out of new or used shipping containers that are either fabricated onsite or first in a factory then assembled on-site.
Description
The Container Home is a new innovative discovery of the 20th century. They demonstrate that old and unused shipping materials can be recycled to become a place to live.
Their initial construction was basic and cheap. While today they can be very elegant, they are still low in cost. Very suitable to those starting out on the housing ladder!
Their popularity has been 50/50. Some people love them, while others dislike them. So, your choice will be personal.
Typically a Container Home is a home per-fabricated swiftly in a factory environment. They are made from cheap and strong steel shipping containers, refitted, transported (usually bare) to your property, placed on a prepared permanent foundation and then quickly assembled together by expert people, or, if you prefer, by you.
You can have one container, two or more, and place them in any configuration desired. They can be placed at ground level or piled up.
They can be customized to your specific size and design, and refitted to use as a modular property. You can do the interior work or you can hire professional designers.
Different Uses
You can have a Container Home for personal use, as you can live in it or you can use it as a holiday retreat
Can be used as an office or use it as a storage area.
You can also use it as a "Granny' Flat", accommodating your parents or your in-laws!
Often used by retirees, holiday parks, cattle stations, trade shows, farms, etc.
They are suitable for downsizing
Benefits of a Container Home
Container Homes are quick to assemble together ( Some factories state 2 or 3 weeks).
They are cheaper than traditional homes
Suitable to be placed in sloping blocks
Good for cyclones and flooding areas
They allow for creativity and flexibility in designs
You can add to them, which would be cheaper than moving, building a new house or renovating
They can be bought direct, saving you money
Can include bathrooms, kitchens, 2/3 bedrooms. However, white-goods are not included.
They require minimum maintenance
Are cheap to purchase
The Financial Cost of Container Home Build
Yes, Container Homes are initially cheap.
However, in the final cost you have to add transport and delivery right to your door, which can be expensive. Also, crane hire, installation and utilities costs have to be added. And, because of their limited height, it is difficult, and expensive, to install a heating and cooling system ( so I have been told).
Container Homes are at times transported by a hydraulic lift, adding to the cost. Also, some manufactures charge rent space where the homes are built.
And, don't forget the white-goods and the cost of the interiors!
In addition, some manufactures prefer new containers, as old ones could be dented, could have been used for chemicals or painted with lead based paints. Naturally, new containers will add to the cost.
At times, finance has been hard to obtain, as Containers Homes are not permanently fixed in a place. Consequently, finance companies may impose strict rules for a loan, making it harder to build. Also, some finance companies are not in favor to provide a loan while the home is still in the factory.
So, Remember: make sure you add every possible expense to the total cost.
Other Costs to Factor In
Often, the roof of Container Homes needs to be reinforced (more expense)
Ensure they are Australian approved /certified
They should have a "Non asbestos certification/electrical certification"
Local council requirements and approvals are needed
Investment Value
Container Homes are the perfect goal if you are a property investor, as you can rent them out, providing you with a profitable financial return
They can cost as much as a new car, but they will provide you with a better financial return
Can also have a very high resale value
---
Related: What is the Difference between a Manufactured Home and a Double Wide Home?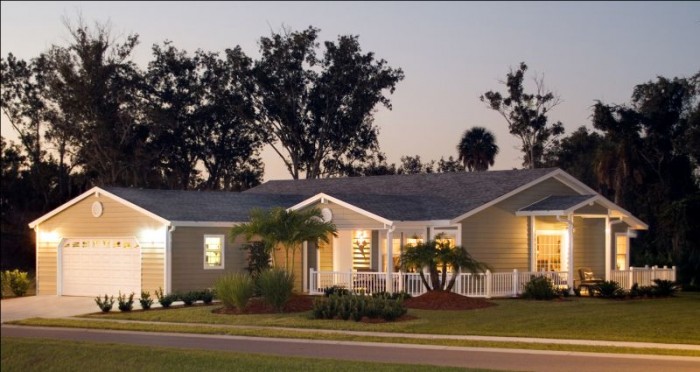 What about the Double Wide Home
Like some container homes, a Double Wide Home is also manufactured in a factory environment in separate parts.
They are built, using quality material, on a steel chassis with wheels, transported to your property and then assembled, on a temporary base, as one home on your building site. At times, the wheels are removed on arrival.
If you like traveling, you can take a Double wide home with you in two pieces. Once arrived at your destination, just put it back together.
They are easily transportable to any place you choose to live, such as your own land, parks, communities, etc.
This is certainly NOT the case with a Container home as the different parts are often welded together.
Double Wide Home Uses
Double Wide Homes can be used for personal reasons:
To live in it
Can be used as a holiday home
Maybe to rent to holiday makers or tourists, which will provide you with financial gain
Double Wide Benefits
Double Wide Homes are cheaper than traditional homes
Not very expensive, as they have a simple design and, usually, a rectangular shape
They are suitable to be altered, as chosen by you, such as in size, number of bathrooms and bedrooms,etc
Most of Double Wide Homes are now fully insulated for weather control, but it can be an expensive modification
They are strong enough for cyclones or flooding
The Financial Cost of a Double Wide
After the construction costs of your Double Wide Home, you will have transportation and assembly expenses, and cost of the utilities.
The interior cost will depend on your taste and your design, but remember that their customization is limited and elaborate modifications can be expensive.
As for the Container Homes, loans are hard to obtain for Double Wide Homes, as they are not placed an a permanent foundation.
What are The Requirements?
It is Important to check the type of climate and load the Double Wide Homes were designed for, as they are prone to some damage in very strong wind
They require roof fasteners and anchoring devises (tie downs)
They need to be placed according to the Ordinances associated with the land
Investment Value
The value of Double Wide Homes depreciates, as they are considered personal items. They are not considered "real property" as, often, they are placed on land not owned by the owner of the Double Wide Home.
Also, remember that if you need a financial loan, they are provided as for a car loan. Consequently, as your car depreciates so your investments loses financial value.
Difference Between a Container and Double Wide
Each belongs to a different Building Code/Category
There are more design restrictions for Double Wide Homes
Container Homes need to be placed on a permanent base
Double Wide Homes are more prone to damage
Double Homes are not as customizable as Container Homes
Container Homes are more expensive to interior decorate
The cost of a Double Wide Home can be about 1/2 of a Container Home
Container Homes have better structural stability
Container Homes have less requirements and restrictions of where there are to be installed
Container Homes have more re-sale value, as Double Wide Homes depreciate
The ceilings in a Double Wide Home are higher
Container Homes are Fire Resistant, due to their steel shell
Similarities of Container and Double Wide
Manufactured in climate controlled factories
Both have an initial low cost by being built off-side
Are delivered in pieces and assembled on a temporary base
Both constructions are cheaper than a Traditional Home
Can be constructed in a wide range of designs
Both are transportable
Either can be rented out
Finance is hard(er) to obtain for each one
Energy-wise and environmentally, they are comparable
Both require minimum maintenance
What's the Conclusion?
As you can see, there are many issues to consider before one decide which type of home to buy.
Costs can vary, so I recommend you to obtain various quotes and compare them before YOU decide.
In addition, I advise you to request information from reputable retailers and wholesalers, and to ask many questions to the companies that build and sell Container and Double Wide Homes.
However, your taste, your exact desires and your way of life will determine your final decision.
But, as with all Modular Homes, your financial resources and the amount you want to invest will mainly determine your choice between a Container Home and a Double Wide Home.